Wild indigo | Laurier Magazine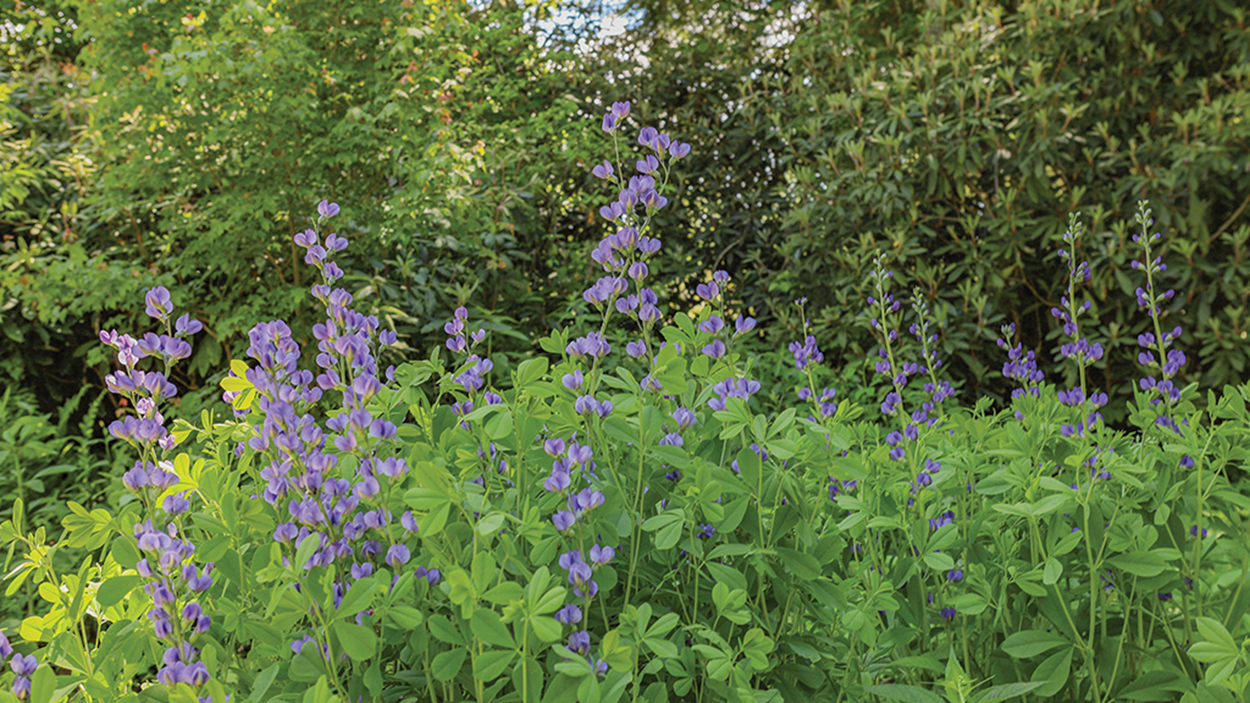 Written by: Marlène Osteen | Problem: 2021/07 – July
For ethereal beauty and mountain resistance, the smart choice is the Wild Indigo Girls.
---
LnRiLWNvbnRhaW5lcltkYXRhLXRvb2xzZXQtYmxvY2tzLWNvbnRhaW5lcj0iMGQxNDkzYzBjZWM1YzQyMmRiMzNlOTc2NmZjYTFmZDciXSB7IHBhZGRpbmc6IDEwcHggNDBweCAxMHB4IDQwcHg7IH0gLnRiLWNvbnRhaW5lcltkYXRhLXRvb2xzZXQtYmxvY2tzLWNvbnRhaW5lcj0iZWQzODMyYWE2MjAxY2JlYzViMWU1YjkwMmRjMDY3ZTIiXSB7IHBhZGRpbmc6IDI1cHg7IH0gLnRiLWJ1dHRvbltkYXRhLXRvb2xzZXQtYmxvY2tzLWJ1dHRvbj0iZTVkMGMwYWZjZWM1ZWRiOTA5MWEwMGU3Zjc2ZmJjODkiXSAudGItYnV0dG9uX19saW5rIHsgYmFja2dyb3VuZC1jb2xvcjogcmdiYSggMTU5LCA4MiwgNTcsIDEgKTtib3JkZXItcmFkaXVzOiAwO2NvbG9yOiByZ2JhKCAyNTUsIDI1NSwgMjU1LCAxICk7Zm9udC1zaXplOiAxMnB4O2xpbmUtaGVpZ2h0OiAxMHB4O3RleHQtdHJhbnNmb3JtOiB1cHBlcmNhc2U7Y29sb3I6IHJnYmEoIDI1NSwgMjU1LCAyNTUsIDEgKTsgfSAudGItYnV0dG9uW2RhdGEtdG9vbHNldC1ibG9ja3MtYnV0dG9uPSJlNWQwYzBhZmNlYzVlZGI5MDkxYTAwZTdmNzZmYmM4OSJdIC50Yi1idXR0b25fX2ljb24geyBmb250LWZhbWlseTogZGFzaGljb25zO21hcmdpbi1yaWdodDogNXB4OyB9IC50Yi1idXR0b25bZGF0YS10b29sc2V0LWJsb2Nrcy1idXR0b249ImU1ZDBjMGFmY2VjNWVkYjkwOTFhMDBlN2Y3NmZiYzg5Il0gLnRiLWJ1dHRvbl9faWNvbjo6YmVmb3JlIHsgY29udGVudDogJ1xmNTA4JzsgfSAudGItZmllbGRbZGF0YS10b29sc2V0LWJsb2Nrcy1maWVsZD0iZTk1NDE4ZjgxYmZmMjFjMzQ1OTZkYjY2MjhmNDVlYjIiXSBhIHsgdGV4dC1kZWNvcmF0aW9uOiBub25lOyB9ICBbZGF0YS10b29sc2V0LWJsb2Nrcy1pbWFnZT0iZjI5MTJiODMzZDM1MjEzYmNiOGM3MzhlZGMwZjU5ZTciXSB7IG1heC13aWR0aDogMTAwJTsgfSAudGItZmllbGRzLWFuZC10ZXh0W2RhdGEtdG9vbHNldC1ibG9ja3MtZmllbGRzLWFuZC10ZXh0PSI4YmFhZjBmOTZlZGYzMzJkZTg4MmRmZDIzNDVkZjYzMiJdIHsgbWFyZ2luLXRvcDogMDtwYWRkaW5nLXRvcDogMDsgfSBAbWVkaWEgb25seSBzY3JlZW4gYW5kIChtYXgtd2lkdGg6IDc4MXB4KSB7IC50Yi1maWVsZFtkYXRhLXRvb2xzZXQtYmxvY2tzLWZpZWxkPSJlOTU0MThmODFiZmYyMWMzNDU5NmRiNjYyOGY0NWViMiJdIGEgeyB0ZXh0LWRlY29yYXRpb246IG5vbmU7IH0gICB9IEBtZWRpYSBvbmx5IHNjcmVlbiBhbmQgKG1heC13aWR0aDogNTk5cHgpIHsgLnRiLWZpZWxkW2RhdGEtdG9vbHNldC1ibG9ja3MtZmllbGQ9ImU5NTQxOGY4MWJmZjIxYzM0NTk2ZGI2NjI4ZjQ1ZWIyIl0gYSB7IHRleHQtZGVjb3JhdGlvbjogbm9uZTsgfSAgIH0g
The people of the Plateau take their gardens seriously.
Gardening here is a way of life, a hobby, a passion, a source of pride and most certainly a topic of conversation. In many homes, outdoor spaces flow effortlessly inward; the first "room" we enter is actually outside. I guess that's why we are always looking to expand our gardens and look for new plants to fill them.
That's why I asked Rachel Martin, a horticultural specialist at the Highlands Biological Station, for suggestions on native plants that might be less familiar.
Martin was happy to suggest two plants of the native Baptisia species – the Baptisia australis (Wild Indigo Blue) and Baptisia alba White wild indigo).
If you're on a sacred quest for beautiful, rock-solid garden performers that are easy to grow and also feed pollinators, Baptisia is everything you could hope for from a perennial. Native species are well adapted to local climates and also support native fauna and ecosystems.
And as Mark Weathington, director of JC Raulston Arboretum at NC State University, put it in his video on the subject, "They are hardy and reliable plants.
Drought tolerant, virtually pest and disease free, once in the ground they will last forever. Most importantly for Highlanders, they grow in open forests and the Blue Wild Indigo will thrive in partial shade.
It is recommended to plant in the fall and ensure that the soil has a lot of fertile organic matter. Although this is a hardy species, it will establish itself best when the soil is richer. Homeowners should be aware that wild indigos are growing – a factor to consider when deciding where to plant in the landscape. A mature specimen can grow to 2 to 3 feet wide, presenting itself as an attractive, rounded shrub.
The White Wild Indigo is the first to flower, and with its dark blue stems contrasting with its pure white flowers atop a 2-3 foot spire, it is a true dazzling. Perennial gardeners have long valued the Blue Wild Indigo (North Carolina's 1992 Wild Flower of the Year) for its beautiful clusters of blue-purple flowers that soar above the dense leafy plants that often reach 4 feet. .
Both plants are particularly interesting for their pods, which develop fully in September and take on a brilliant metallic color. When left alone and not headless, they provide a unique hearing experience throughout fall and winter as well as nesting habitat for native insects.
Visitors to the Highlands Biological Center can see the two plants growing together near the Coker Laboratory building. For more information about the center and to find out more about this and other offerings, visit highlandsbiological.org.