Why all-female Smith College should accept trans women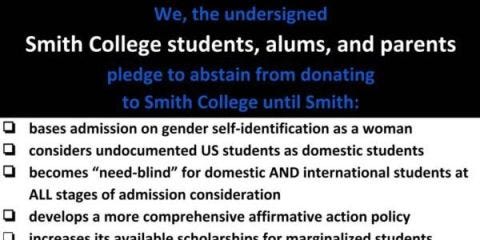 Students and alumni of Smith College, an all-female college, are pushing for the school to accept transgender students through a Non-support commitment who states that they will not donate to the school until they accept trans women [via CampusReform. 
The petition comes after transgender student Calliope Wong began a campaign to include trans women at Smith, after she was denied admission for not having her gender listed consistently as "female" on all the forms.
The petition reads:
Dear Smith College Board of Trustees and President McCartney,

We, the undersigned, pledge to abstain from donating to Smith College until and unless Smith implements an admissions policy that: 

is based on gender self-identification as a woman, as opposed to the current policy of relying on gender markers
considers undocumented students who attended high school in the United States as domestic students 
considers both domestic and international applicants equally regardless of financial need at all levels of the application process, a policy many schools with similarly-sized endowments have adopted
develops a more comprehensive affirmative action policy which accounts for class, race, disability, citizenship status, gender identity, and prioritizes non-traditional aged students

We consider the current admissions policies unacceptable and believe that they are not in line with Smith's mission that commits the institution "to access and diversity, [and] recruit and support talented and ambitious women from all walks of life. "

We know that a committee is being convened to discuss Smith's admission policies, and we urge the board to announce these policy changes before the last board meeting of the academic year, which ends on May 2. .

Truly,

Former undersigned, prospective and current students, and parents
Smith's former student Elizabeth Hungerford disagreed, telling Campus Reform that she believed:
"Trans women are, by definition, male-bodied and socialized people. It is not a value judgment; i have a deep compassion for trans women who sincerely wish to live as women. At the same time, I think it is perfectly reasonable to expect more than the empty rhetoric of identity politics (ie "I am what I say I am") from the men who apply to Smith. as women. Smith must adopt objective criteria for admissions that are applied consistently and can withstand legal challenge from non-trans male applicants. "
This is a big part of the problem with these kinds of discussions, as many people still view trans women as either men or a "male body," despite their actual gender identity.
Writer and transsexual advocate Janet Mock argued with Piers Morgan about it, when he called her "formerly a man" while she was a guest on his show:
Mock then returned to his show to explain why what he said was offensive, saying:
"I think we need to have a discussion about what gender is. And the gender expectations in our culture, I think we are born and we are assigned a sex at birth. question over which none of us have control, but we have control over our fates and our identity. And we must be respected, it is not a question of the way, it is not a question of surgeries whether or not I was able to endure. who I am right now. "
If potential transgender students say they are women, they should be accepted at face value as women because they are women. The odds that this unspoken fear some of these former college students seem to have – that cisgender men (people who identify with their gender assigned at birth) will lie about being transgender just so they can get in at a university for women and hurting women – is highly unlikely. And if the goal here is to protect all women in college, don't admit trans women because you don't believe them when they tell you they're female, regardless of their surgery status, it doesn't. It's not about protecting all women, it's about protecting the ones you choose to protect.
Follow Lane on Twitter and Instagram.

This content is created and maintained by a third party, and uploaded to this page to help users provide their email addresses. You may be able to find more information about this and other similar content on piano.io