Touch the flowered footy nursery | Central Queensland today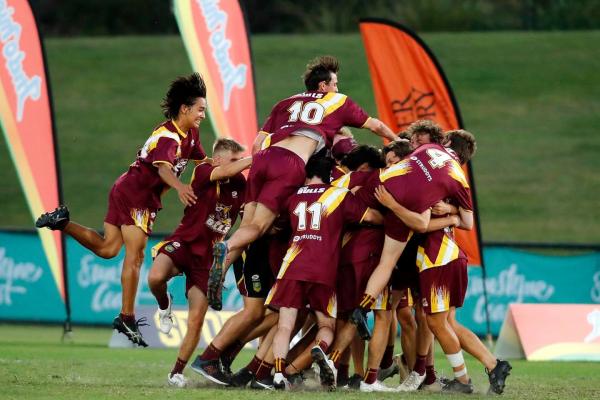 By Liam Emerton
Our region has a reputation for being fertile ground for young touchline footballers, and the results of the weekend put an exclamation mark beside that statement.
The Central Queensland Bulls won the National Youth Championships (NYC) in girls and boys under 16 with two outstanding wins in the grand final.
The under-12 girls, 12 boys, 14 girls and 14 boys also all did the big dance, however, finished second in their respective competitions.
To add to this impressive feat, our representative touch football association has been named the second best touch football entity at the championships.
And the victory didn't end there, Jardel Bob (18 boys) and Kaliah Bob (16 girls) were named players of the series while Zayne Cox (18 boys) was named player of the final.
Under-18 boys Angus Gabriel whose magnificent interception try brought out the highlight of Touch Football Australia after running away for a big final moment.
After the big 11-3 victory for the Under-18 boys, Patrick Crow and Flynn Kelso spoke to the media at Touch Football Australia about the incredible feat.
"It was definitely a good game, the boys really gave it to us in the round robin game and especially there too, so it was really good," said Crow.
"This is definitely one of my favorites [carnivals]. You play with different people, it's not the usual Gold Coast players, Brissy, "Kelso added.
"It's good to come here, to have a different competition and to go out like that.
"Former coaches, junior coaches, club coaches, they all help make us the players that we are. Hats off to them and thank you.
Rockhampton Touch chairman Gary Benbow was in New York watching all the action unfold and spoke to CQ Today about the incredibly strong program in central Queensland.
"It's great for the region, you couldn't ask for better," he said.
"Overall it was a great performance from Central Queensland.
"The efforts that young girls and boys have put in over the past two or three years, probably longer, are getting stronger and stronger with each passing year.
"It comes down to our coaches and we couldn't be more proud of the boys and girls.
"They know the standard they need to reach and the way they train and care for each other is great."
Rockhampton already has a formidable tactile football identity and when you add Gladstone, Yeppoon, Emerald and all the CQ into the mix it becomes a sensational selection of top talent.
Added to this is the development of our players and coaches which Benbow says is increasing every year.
"The culture here in the central Queensland region is very strong," said Benbow.
"From our seniors to our juniors, I think they know exactly what they need to do to reach that next level.
"And that goes to the representation of Queensland and the Australian youth and senior teams.
"Years ago you wouldn't have heard of Central Queensland from Australian reps and Queensland reps, but right now it's just huge.
"This is the fertile ground for our Australian teams at the moment. We are a nursery here and we get better every year.