KCCB teaches ecology through vermicomposting course | Herald of Copperas Cove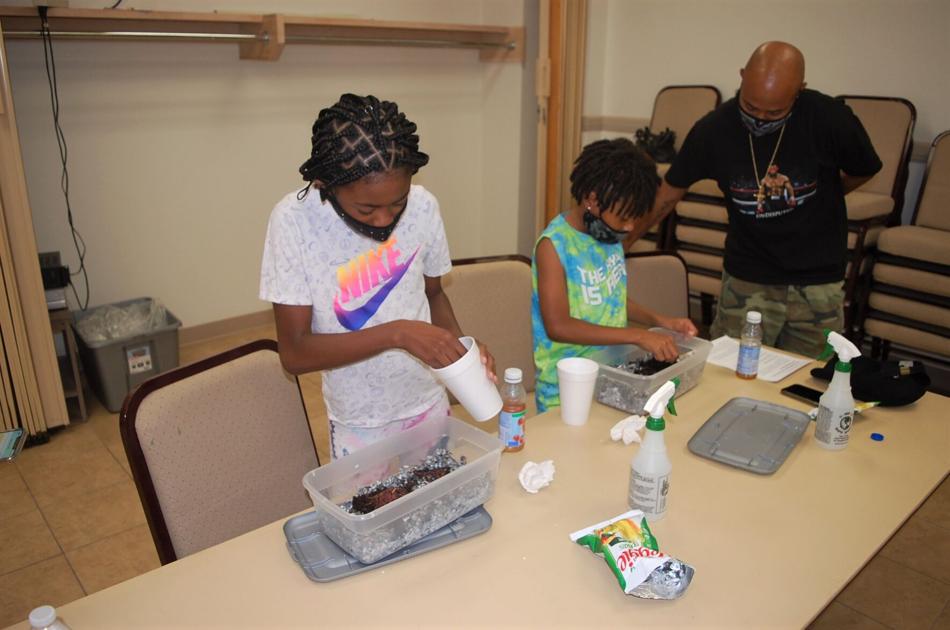 At least a dozen residents of Copperas Cove learned to compost using worms during a vermicomposting class hosted by Keep Copperas Cove Beautiful at the Copperas Cove Public Library last Saturday.
Roxanne Flores-Achmad, executive director of Keep Copperas Cove Beautiful, said the event was held because Cove residents requested the course.
"It's just a great way to teach our community about composting," said Flores-Achmad. "Composting is basically using what you have in resources instead of just throwing them away. "
Flores-Achmad said the participants made their own composting bins and then used that compost to grow their gardens, flowers and other plants.
"(Composting) is just a way to renew the life cycle on Earth, is environmentally friendly and saves money so people don't have to buy fertilizer," Flores said. -Achmad.
Flores-Achmad said the city has no restrictions on composting.
"The biggest restriction is that people are pushing themselves and not doing it because they don't know how easy it is," said Flores-Achmad. "So we hope this course will show people how easy it is to do. "
Flores-Achmad said all supplies to start composting are provided to participants by the KCCB during the free course taught by Bob Hill.
Hill, a 21-year-old veteran and retired US military, said he grew up farming and is still passionate about gardening. Hill said he has been teaching composting classes since 2012, but only the last four or five classes involved worms.
"(The participants) will go home with worms and a kitchen composter," Hill said. "You put it under your sink and put your leftover food in there."
Hill said the worms speed up composting and allow people who don't have a lot of space to compost indoors.
"A lot of people only have houseplants, so this is the perfect solution for feeding houseplants," Hill said.
Hill said gardening creates a large amount of garden waste, leaves and other plant debris and that composting is an easy way to recycle this waste and protect the environment.
"Composting is a natural process in which garden waste breaks down into a dark, nutrient-rich, fragrant soil conditioner," Hill said. "Composting keeps organic waste out of the landfill and returns valuable fertilizer to the Earth. "
Domonick Stewart, a recent retiree from the US Army, brought his daughter Domonique Stewart and son Domonick Stewart II to class because they wanted to learn more about vermicomposting. Stewart said he had tried composting in the past, but was not familiar enough with the process to be successful.
"The first time I saw this class come up I thought it would be amazing to have experts to show us what to do and how to take care of the worms," said Stewart. "It's something fun to do with the kids and maybe it will turn into a garden, but we're just getting started now. "
Stewart thinks the idea of ​​recycling is amazing, and her kids are constantly looking for ways to recycle.
"Not a day goes by that my kids are like, 'Hey daddy, can we go get some paper around the neighborhood' or ask, 'Am I putting this in the trash or recycling?' "Said Stewart.
Stewart believes that recycling and composting also reduces waste.
"A lot of the food we eat, especially food and vegetables, is often just thrown away," Stewart said. "But we can just throw the (leftovers) in the trash with the worms."
"It's just wonderful that Copperas Cove offers things like this to children and the community and offers a chance to give back to the community," said Stewart.
Domonick II said he liked the composting class, that he liked the worms and that he hopes to build a garden.
"(Composting) is good," said Domonick II. "It's like my best day with worms."
Domonique says she has always been fascinated by worms and composting.
"When I was in second grade when I went to the playground, I was always looking for worms," said Domonique. "I tried to find worms around here, but they die or run away."
The response to the course was so positive that the KCCB has scheduled an additional free composting course to be held from 6 p.m. to 8 p.m. on October 12.