From the parking lot to the nourishing forest | Characteristics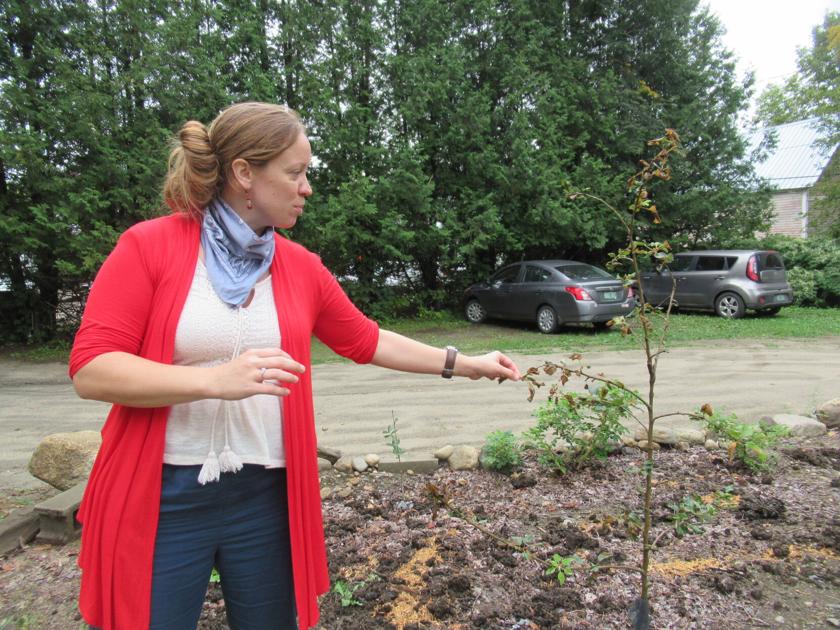 At East Burke School, an independent nonprofit school for middle and high school students, the COVID-19 pandemic has prompted a reinvention of the curriculum. The school is now focusing on building community resilience in the face of climate change.
According to Megan Durling, director of communications and development at the school, the program change arose out of a question generated by the pandemic: "How do you deal with a crisis of unity?" "
What the three school staff came up with involves land management and sustainable food production. They decided to do something difficult – reclaim an unproductive piece of land, the school parking lot. They planned to turn the school property into a "food forest".
Ultimately, the East Burke School hopes to build a public demonstration center focused on regenerative agriculture.
Over the past school year, East Burke School has been very fortunate. Due to its size, the school has provided in-person instruction to its students throughout 2020-2021. They did not have to close and no one on staff and students contracted the COVID-19 virus.
One of the school's curriculum projects focused on reclaiming 1,000 square feet of land that had served as a parking lot for over a century. "The land there was completely dead," Ms. Durling said. The soil was extremely compacted, compressed by the weight of parked vehicles – and the weight of parked horses and strollers during the site's early years.
In geology class, students tested the soil and found that it would take a lot of work to bring it back to fertility.
The first activity of land reclamation involved hard physical labor – digging holes in the old parking lot. "It was like we were digging in concrete," Ms. Durling said.
Instead of using backhoes or other modern equipment, the students took up the challenge and started digging with hand tools. Despite a dirty and sweaty job, the students gained a sense of self-sufficiency by striving to create holes at least three feet deep.
"Anyone observing the work would have thought we were running a child labor camp," Ms. Durling said, but the students did not hesitate to work. "They were very excited about the project, spending time over lunch or in the rain working," Ms. Durling said.
Eventually, the holes the students and staff dug were filled with rich soil, worms, and compost – the ingredients to create healthy soil capable of growing produce.
Over the next few months, students focused on sustainable uses of the environment as part of their culinary arts program. In the fall, they collected apples and pressed cider, using a manual press and crusher. The school used the cider they produced to sell at fundraising events.
Instead of focusing on eradicating Japanese knotweed, a plant that many call invasive and unnecessary, the students instead learned how to cook with it. The plant's hollow green stem is edible. It can be eaten raw or cooked and its taste has been described as that of rhubarb. At East Burke School, students made hummus – and even dessert mousse.
In the spring, the students learned how to generate funds to take their food forest project from idea to reality. Over a three-day period, using social media to reach out, Food Forest raised $ 1,000 in donations to purchase seeds and plants. "Donations have come from all over the country," said Durling.
Among the living things placed in the old parking lot were Jerusalem artichokes, buckthorn berries, Nanjing cherries, Carnelian cherries, hardy kiwis, a weeping apple tree, currants, blueberries and roses from which Edible rosehips will be harvested.
"Everything is still quite young," Ms. Durling said, "so we're not producing a lot yet."
Plants from local farmers were also donated and planted last spring, such as pumpkins, kale, cabbage, tomatoes, peppers and tomatillos.
"We plan to eventually convert the entire land into a food forest," Ms. Durling said. Next year, a mushroom farm and an outdoor classroom are planned. Ultimately, the East Burke School hopes to become a community resource for the public to teach regenerative farming techniques.
"We want to be able to teach how to reclaim the soil and how to produce food in a way that gives back to the soil, that doesn't deplete it," Ms. Durling said. Future workshops could include programs on how to grow food sustainably, preserve what is grown, and cook with common and exotic vegetables and herbs.
Community partners who have adopted East Burke School's plans to create a food forest include Café Lotti, a restaurant near the school that keeps all of its coffee grounds for use as compost. Black Dirt Farm of Stannard also donated compost and Simple Wheys Farm of Twin Mountain, NH, donated goat manure. Agway in Lyndon donated a pallet of bagged compost and Lyndonville Hardware donated gardening tools.