Bassenges farm: low-tech agriculture on a high-tech campus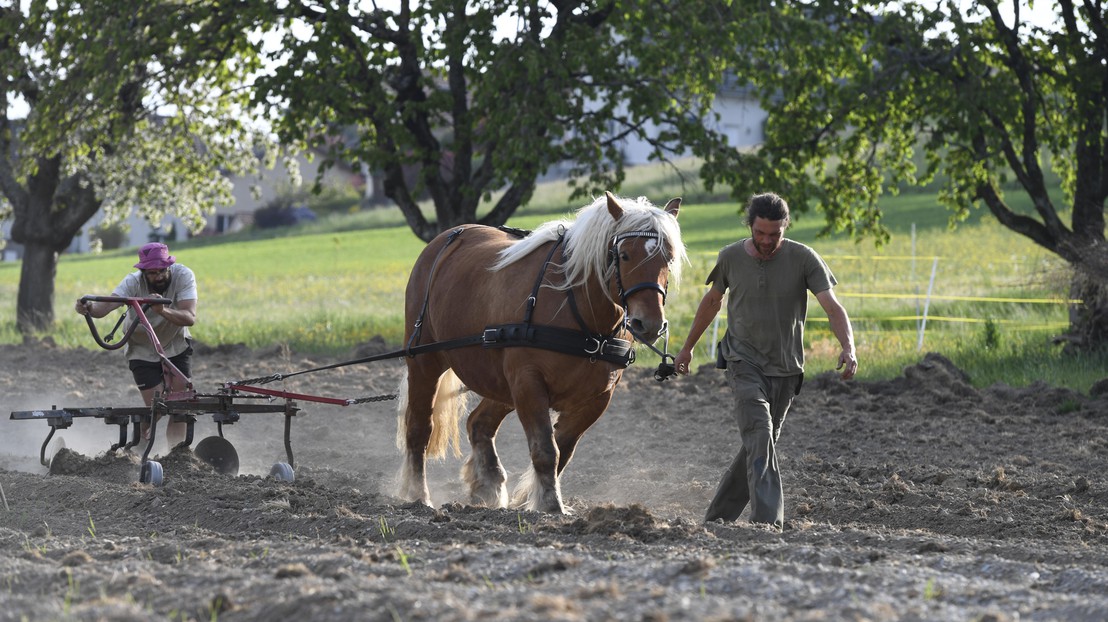 At the Ferme de Bassenges, six dedicated women and men bring their vision of sustainable development to the EPFL and UNIL campuses, giving low-tech agriculture – without pesticides – a chance to prosper.
To see the long version Of the history.
Facing the Swiss Tech Convention Center, on the other side of a long road called the Tir-Fédéral, the Bassingues farm is transforming. Almost 3 years ago the farm was practically empty. Now it's literally bustling with life.
The juxtaposition of technological society and agricultural life is striking at this particular intersection in Ecublens. The imposing architecture of the convention center, the noisy traffic along the road, the M1 metro which passes periodically… It's city life as usual, until you hear the braying of the donkey, eerily amplified as the call "hee-haw" bounces off the walls of the huge convention center.
The contrast doesn't stop at the donkey. A neighboring plot of conventionally cultivated land features a perfectly aligned and robust monoculture without any weeds. At the Bassenges farm, which works at Bio-Switzerland certification, neighbors and passers-by witnessed tillage carried out by horses and mules, with farmers and volunteers hand-weeding and caring for the diverse vegetable patch.
Meet the members of the Bassenges agricultural collective
"We don't want phytosanitary products in our fields," explains Ivanna Crmaric, agronomist at the Bassenges farm. Organic farming allows the use of organic phytosanitary agents, but prohibits the use of synthetic products. Instead, Crmaric and his colleagues make their own preparations, such as nettle macerations and herbal decoctions.
Crmaric chose agriculture because it is a concrete way of living according to its values. It is also a way – she hopes – of showing that low-tech agriculture and slow economic choices are possible in our rapidly changing high-tech societies. She also dreams of a Swiss research farm in sustainable agriculture, and enthusiastically refers to the example set by the research farm in University of British Columbia, in Canada.
Crmaric is one of six invested women and men who work – and live – on the farm, raise animals and cultivate the land using organic practices, as proposed in a project which unanimously won the EPFL-UNIL jury in December 2019. Agricultural land is made available by EPFL and UNIL on their respective campuses. Together, Crmaric and his colleagues define themselves as the collective of the Bassenges farm.
"Conventional agriculture feeds the plant, that's what synthetic fertilizers do, but whatever the plant does not absorb is washed away by the rain," explains Timothée Faes, a certified Swiss farmer trained in agriculture. biodynamic. "Instead, we cultivate the soil. We bring nutrient-rich humus to the soil to promote diversity, from mycorrhizae to worms and insects. We take care of the ecosystem to grow healthy plants, and we are an intrinsic part of that system. "
Faes brings twenty years of experience in biodynamic agriculture, dairy sheep breeding and cheese making to the Bassenges farm. He chose this vocation to be as close as possible to wild nature in the context of our built society.
Also part of the collective are three EPFL graduates in environmental engineering, Baptiste Calliari, Clément Levasseur and Tom Müller, as well as Melodi Binay, a communications graduate from the University of Friborg.
Calliari brings to the farm of Bassenges his experience of organic market gardening of a small farm in Grenoble. Calliari was an avid mountaineer, until he discovered agriculture. "Mountaineering was an escape for me, but it also involved a lot of travel. I wanted to reduce my carbon footprint, and the best way for me to find that balance was to change my lifestyle.
Levasseur worked for several years as an agricultural advisor, but he wanted practical experience. He was particularly interested in how to reduce tillage, as a way to maximize life in this habitat, and how to incorporate trees for the sake of agriculture, a practice called agroforestry. A project at the Bassenges farm was an opportunity to be seized. "Agricultural land is scarce in Switzerland, and is often kept within families from one generation to the next," explains Levasseur. With the help of EPFL and UNIL students, they planted more than 75 trees and nearly 200 linear meters of hedges on both campuses.
When Müller is not working on his UNIL thesis on melting glaciers, he contributes to the farm whenever possible. It is part of the project to discover and learn as much as possible about small-scale agriculture, while experiencing community life.
Binay has always been passionate about agriculture. After her studies, she taught agricultural management and politics at the Marcelin school. Coming to the Bassenges farm was a natural process, in line with his convictions of reducing the enormous amount of waste from industrial practices.
A sustainable farming experience
Since the start of the project, the members of the Bassenges collective have been developing their vision of sustainable agriculture and living and testing it directly in their practices. They meet every week to organize the work, but also to evaluate and evolve in their great lasting experience. The biodynamic approach, like planting according to the cycles of the moon, or concocting sprays and biodynamic preparations, is not for everyone in the collective. But that does not prevent Binay, Calliari, Crmaric, Faes, Levasseur and Müller from working together, bringing together their respective personalities, and implementing their common idea of ​​organic and sustainable agriculture.
What are their guiding principles? "We are aiming for a circular material flow, with as little external input as possible. We aim to increase biodiversity in our agricultural practices, but also to minimize our carbon footprint, "explains Crmaric.
Agriculture indeed has the potential to reduce carbon emissions. Loss of soil organic carbon due to human use of land can be mitigated. Most recently, the European Commission launched its new carbon agriculture initiative.
Small-scale, low-tech agriculture
Members of the collective have been at the Bassenges farm since February 2020, just before COVID swept through the country, cultivating up to 9.5 hectares or 8000m2 of vegetables, 15000m2 of crops such as cereals. They raise sheep, pigs, take care of horses, a donkey and a mule, while making cheese and arranging buildings on site.
When the stubborn mule named Greta refuses to plow the field, they don't hesitate to use a small tractor. They remove the dried popcorn kernels from the cob using a bicycle grinder. They use a cabinet powered by sunlight to dry their green beans for long term storage. They store their harvest in a cold room that they have built themselves, with the help of volunteers, from blocks of hay and a mixture of local clay. It is with their hands, every morning and every evening, that they milk the ewes for making cheese, in a cheese factory that they have built themselves, using as much as possible recycled material. They also sell fresh vegetables and cheese on their Tuesday market, daily in their self-service, or through their weekly distribution of baskets of seasonal produce.
The workload is intense, vast and varied. The members of the Bassenges collective reap the fruits of their labor, not necessarily financially, but in terms of life according to their values. They live as much as possible off the land. They adopt a circular life and a slow economy. They explore what it means to practice low-tech sustainable agriculture, and they do it in front of one of the most technical universities in Switzerland. Future synergies are promising.